Hearts Make-do
For Valentines
Supply
Red fabric
flannel fabric
Small flag
Old candle stick
Rusty bells
Rusty safety pins.
Rusty key
I used Red shop rags that I bought at the 1.00 store.
But you can use any fabric to make them.
You cut out the heart. Sew and turn to stuff.
Attach to a old candle stick or you can even use a piece
of 2 x 2 wood.
I used tea stained flannel to make the small heart
and cut the flag heart out of a small flag that has been
tea stained.
If you have any question. Just email me at
csurber@hughes.net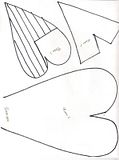 Click on picture above to print pattern
This is where I have my displayed